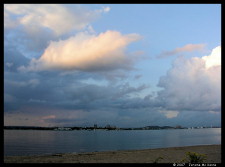 I have been taking pictures since my early 20's but much of my photography was either personal (ie: family related) or technical (ie: color slides of art work). When I was in college I was interested in the old industrial cities of the Northeast but I never pursued it afterwards. As I reached my 30's I became more and more interested in taking wildlife photography. I tried out a cheap Tamron zoom lens but soon after I bought it I realized I need a much longer zoom and a much better tripod. In recent years I've gone digital.
A digital camera really made a difference. For one thing the 'film' is free so one can shoot as much as one likes and there is no need for processing. I probably have learned more about exposure in the last 3 years than I ever learned before. I own 3 digital cameras. The first was an Olympus C5050Z, but I'm up to my 2nd DSLR. It is the bottom of the Nikon product line but it is a good camera.
For a long time I concentrated on bird photos, but I live in a small farm town and birds aren't common here. So, I do take bird photos when I can but I focus on landscape and architecture (if you call small town buildings architecture).