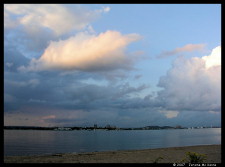 I have been taking pictures since my early 20's but much of my photography was either personal (ie: family related) or technical (ie: color slides of art work). When I was in college I was interested in the old industrial cities of the Northeast but I never pursued it afterwards. As I reached my 30's I became more and more interested in taking wildlife photography. I tried out a cheap Tamron zoom lens but soon after I bought it I realized I need a much longer zoom and a much better tripod.
A digital camera really made a difference. For one thing the 'film' is free so one can shoot as much as one likes and there is no need for processing. I probably have learned more about exposure in the last 3 years than I ever learned before. I own 3 digital cameras. The first is an Olympus C5050Z. It is rugged enough for most amateur work, but its sensor is terrible. The higher ISO speeds are nearly useless. I also own an Olympus SP 500UZ (UZ stands for ultra-zoom). They have all the faults one would expect of auto focus with a 10x zoom. It is subject to quite a bit of chromatic aberration, and it doesn't always find a good focus but coupled with a good tripod, it makes decent photos.
Since 2005 I have started to concentrate on wild bird photos. In MN, I bought a decent telephoto converter for the C5050Z and my experience with that led me to look for even more magnification. I recently bought the SP 510UZ, that shares the same mechanics as the 500 but it is configured differently. The lens is a has better chromatic aberration but seems to be designed for the best overall focus rather than the sharpest.